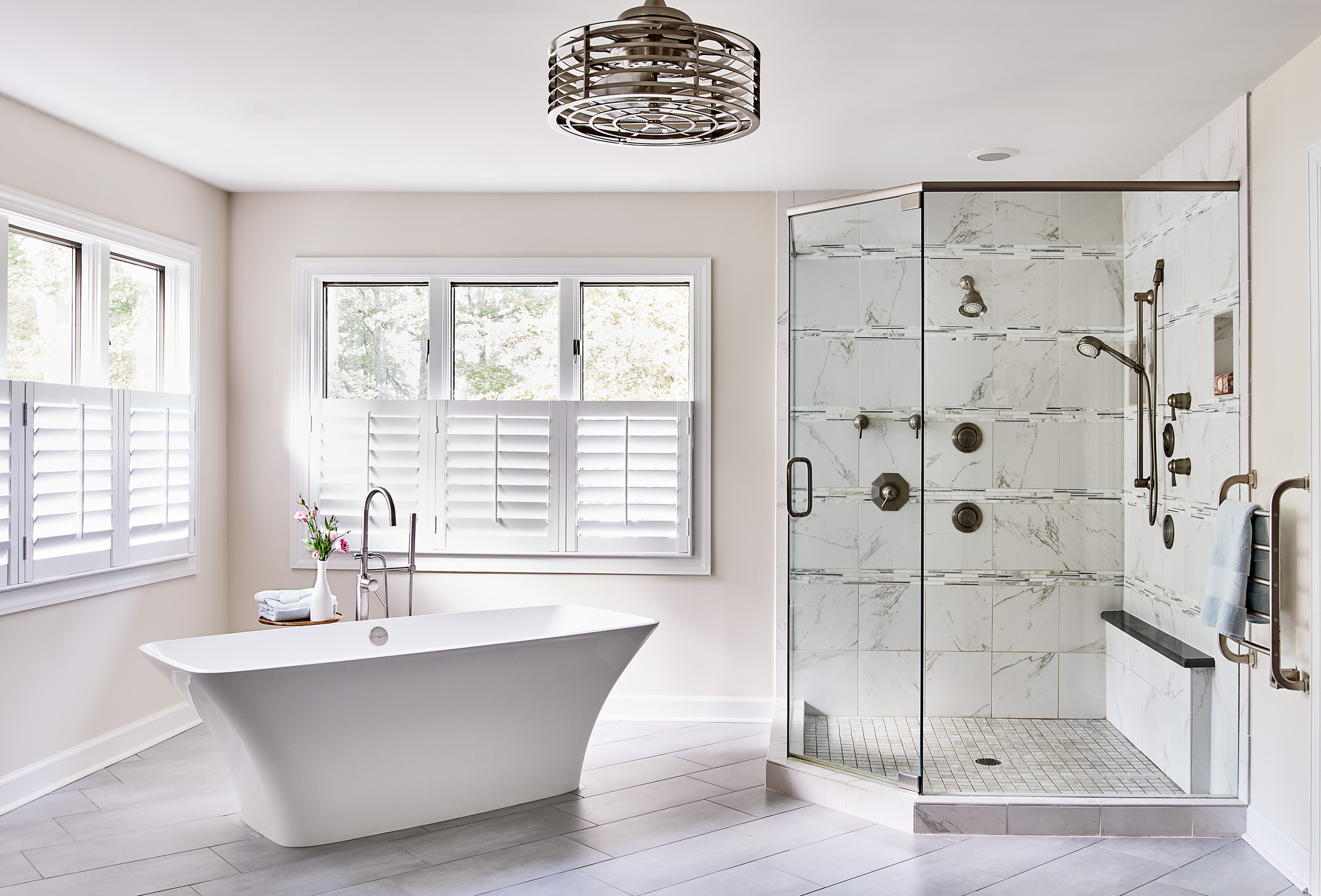 Do:
Keep a bathtub in your home. It does not have to be a Jacuzzi foot print, but one does need to stay, in some format, for your home's value.
Splurge on upgrading your shower. Odds are you use it every day. Retile and add a frameless glass shower surround to your shower area. This will make your home both beautiful and current.
To save money, keep the plumbing items in the same spots. However, if the flow really doesn't work before the renovation make the investment to change the arrangement. Nothing worse than spending the money and doing the work and ending up with the same bad plan.
Place artwork over your garden tub.
Take out that huge mirror and replace it with personal framed mirrors for a more elegant and warm look.
Replace your current toilet with a comfort height, elongated bowl, low flow model. Round bowls are out and uncomfortable. (Measure your space before purchasing!)
Replace the old vanity lights with lighting that is not necessarily meant for the bathroom. There are many choices today and the traditional lighting is boring.
Put in dimmers on all lighting switches. This allows you to adjust the lighting to the time of day and the amount of glare you are willing to deal with as you start your day.
Raise your counters to counter height not vanity height. Not only is this more comfortable for most adults, but it allows for more storage in the cabinetry.
Replace the countertop with a beautiful granite, marble, quartz, glass or other solid surface material. These are all hard, mostly non-porous surfaces that should add value to your home and add beauty to your space. Laminates will not last over the years or add value to your home. Also make the corners rounded for your own safety.
Ventilate adequately. Bath fans should supply at least 1 cubic foot per minute (cfm) of air for every square foot of space. While one 50-cfm fan should be adequate for a bathroom 50 square feet or less, two fans–one for the shower area and one near the toilet–are better for spaces larger than 100 square feet. (Consumer Reports)
Don't:
Don't – Install a vessel sink in a high traffic bathroom. Often perfect for a powder room they are hard to clean around and tend to be clumsy in a master bath.
Don't – Go to your local do it yourself warehouse and pick out floor tile. Ask a professional. Different tiles are appropriate for different applications. For instance, the floor of a bathroom needs to be slip resistant.
Don't – Buy a 10x magnification mirror if you value your self esteem. (Personal recommendation)
Don't – Stick to bathroom only rugs. If you have enough space, put in a lovely throw rug.
Why use an Interior Designer to plan your renovation?
A design professional has been trained on space planning and integrating the practical needs with the aesthetic needs of the space. Prior planning will save you money in the end. A poor plan or a plan as you go with the contractor will end up with changes. The result of changes can be:
Time delays obtaining additional materials
Too much or too little materials being purchased
Materials not matching due to different times of purchase (dye-lots)
Doors not clearing toilets or vanities due to overcrowding.
Higher costs due to time overruns and poor planning on materials.
Have complete construction documents drawn up and look at every scenario of the space prior to quoting out the space with a contractor. You will then get the best and lowest estimates as there is no ambiguity in the plan. If ambiguity exists, the contractor must put contingencies in their quote to insure the project costs ultimately come in as promised.